Pet memorial tattoos offer a creative and meaningful way to honor your furry and loyal friend, the important role your pet played in your life, and express how much you loved your little friend. A tattoo is a permanent reminder of their impact on your life, and at the same time, it's a way to honor them.
Nothing can replace your furry, loyal friend, but when your beloved animal has gone to a better place, you can honor them with a pet tattoo. In addition to being a symbol of tribute, pet tattoos express your emotions. Nothing expresses your emotions better than having a pet tattoo on your body. You carry these memories with you every day, memories that are very important to you.
The ideas for pet memorial tattoos are endless. Pet memorial tattoos can be designed in styles ranging from simple to complex, from black and white to vibrant colors. You can also use quotes from your furry friend, names and dates, portraits and paw prints, and other meaningful symbols to make the tattoo unique.
Memorial Pet Tattoo Locations
Getting a pet memorial tattoo on your body symbolizes a strong love for your pet. There are no location restrictions for pet tattoos, and you can place a pet memorial tattoo anywhere you like. The main aspects to consider when deciding on a pet memorial tattoo location include:
The size of the tattoo
The body part where the tattoo will be placed
The design of the memorial tattoo
Tattoo message and image
For the best area to place a small pet memorial tattoo
Ankles
Forearm
Wrist
The best area for placing large pet memorial tattoos
Chest
Thighs
Ribs
Upper Arms
Calf
How to design a unique pet memorial tattoo
Paw prints or pictures of your pet 
Use your pet's favorite toy in the tattoo design
Special dates, names or initials
Let the design capture things that remind you of your pet
Let's take a look at some of the most beautiful pet memorial tattoos out there. We hope you can use these tattoo art ideas to make a truly special tribute to your pet's memory. Most of the examples below are about dogs and cats, but you can use your own creativity to apply the idea to your specific pet.
Dog Tattoo
Man's best friend is always an inspiration. You can use many different styles or patterns to show loyalty, strength and happiness. Many people choose to get pet portraits that include a banner or dog collar to show their name. You can also include a favorite toy, plant or similar detail to make your dog tattoo truly personal. We'd love to have our furry friends with us forever.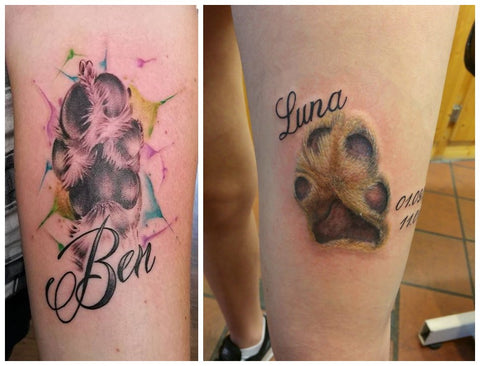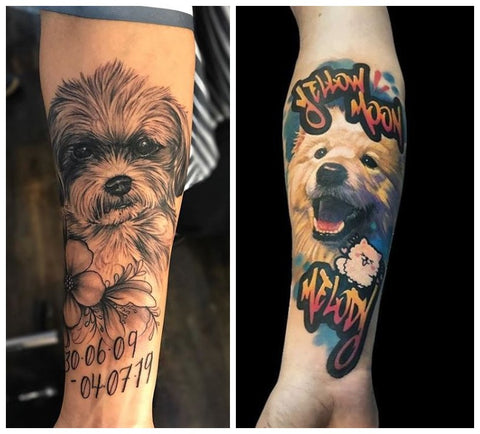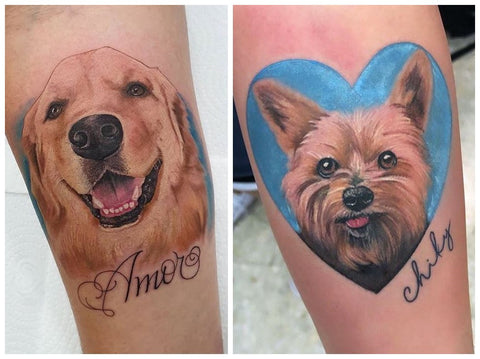 Cat Tattoo
Cats, their fur has many textures and patterns. Realistic cat tattoos can be stunning and really capture your pet's personality. Whether they are curled up purring or chasing butterflies in the sun, felines are perfect for tattoos.

Rabbit Tattoo
As loving and cuddly pets, rabbit tattoos often capture the charming qualities of the animals. Add details of nature, such as a favorite flower scent or carrot snack. Bunny tattoos can be done in realism, watercolor, illustration and many other styles that show the soft texture of their fur.

Hamster Tattoo
It's cute and small, but definitely has personality. A hamster tattoo can either make a great pet portrait or be a great way to express your love for cartoon characters like the anime favorite Hamtaro.

Ferret Tattoo
Very naughty and very smart little creatures. Ferret tattoos highlight their cute little faces and paws.

Parrot Tattoo
Parrots have curved bills, strong legs and claw-like feet. They are either brightly colored or multicolored. Their intelligent, strong and friendly nature is the main reason why people give themselves to love parrots. They symbolize intelligence, playfulness, compassion and freedom.

Fox Tattoo
Fox tattoos are exotic pets that are popular even with those who have never owned them before. Realistic fox tattoos capture the fluffy hair, big curious eyes and intelligent smile of a fox. The details that compliment the fox tattoo design can be anything from natural aspects to anything. The fox surrounded by flowers emphasizes the beauty and fragility of this animal, as well as the ethereal and mystical energy of the fox.

Hot Motifs For Pet Tattoo

Flowers
Flowers bring a special quality to pet portrait tattoos through their beauty, deep symbolism and innocence.

Frames
From ornate baroque to jeweled metal frames, highlight your pet's portrait with a decorative picture frame.

Geometric elements
Geometric tattoos are incredibly artistic and creative, and the combination of animals with geometric, straight, detailed lines and patterns shows a person's attention to detail.